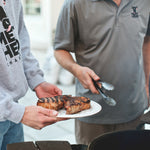 We love nothing more then getting together after the long work week and grilling out. Whether we are sharing fresh caught fish from the bay or steaks from the store...there is one thing we can all agree on. Its all about the flavor!
With all of the grilling we have been doing lately we decided to explore a few sauces born in our fellow southern states. We found a wide range of options that we loved from more vinegar based ones, thicker sweeter super saucy ones to white sauce that is mayonnaise based and can be used as a sauce or just as a dressing!
Lane's BBQ
Started in the small town of Bethlehem, GA nine miles north of Monroe the owner takes great pride in turning his favorite hobby into a career. They offer six kinds of barbecue sauce to cover a wide range of flavors and styles - vinegar-based which tends to find lots of popularity in NC and SC, mustard-based which is widely considered SC-style, tomato-based which finds a strong following in SC and really is the most universally loved across the U.S. and this one won the 2018 Flavor of Georgia award for barbecue sauces, "Sorta White." The white sauce is an Alabama-style sauce with a mayonnaise base that goes beautifully over beef or chicken.
$8.99 per 13.5-ounce bottle of sauce, $7.99 per 4.6-ouce bottle of rub. https://lanesbbq.com 
Melvin's Original Golden Secret BBQ Sauce

Have you tried mustard sauce? Considered to be one of the crowning jewels of South Carolina bbq, Melvin's BBQ in Charleston is the best we have sampled. This might be due to the fact they have been around since 1933 and are credited with being the ones who invented the flavor-packed sauce. Their all-natural, gluten-free pepper-speckled sauce is surprisingly sweet at first, but the sweetness is quickly followed by a punch of heat for lasting flavor. 
$9.99 for (2) 12 fl oz. glass bottles of sauce. melvinsbbq.com
Bone Suckin' Sauce

Born in Raleigh, North Carolina, in the mid 1980s, this is a great sauce for grilling and marinating with its incredible thin and tangy flavors that holds true to its Carolina roots. Thanks to the apple cider vinegar and horseradish to give it a bite, the honey and molasses provide sweetness that amplifies and helps balance the full flavor. Non GMO, gluten free, fat free and no high fructose corn syrup, we love laying this sauce on our rack of ribs or pork chops. 
$6.79 for 16 fl oz. glass jar of sauce. bonesuckin.com