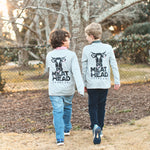 Between two friends' late-night conversations over an outdoor fire, that wouldn't stay lit long enough for the last laugh to be had, our journey to becoming Meat Head Charcoal began.
My wife, Maggie and I were raised in a small town in South Georgia where most weeknights were made standing around the grill. Saturday tailgates were all day, food filled affairs and evenings concluded around the last ember of a fire.
We are both from a long family line of entrepreneurs. Our family's rich history is embedded in the same town we were born and raised in, Hawkinsville, Georgia, and where both of our parents and some siblings still live. Maggie's grandfather was a fourth-generation farmer, and my grandfather operated the Farmer's Supply store. Our families bond goes back to when our fathers worked together for over 20 years in the senior care industry. Today her dad and brother continue their family legacy in farming as pecan farmers. From being business owners, educators and farmers, our grandparents and parents taught us early on in life that humility, hard work, and a sense of pride should be at the center of everything we work toward.
Fast forward to us starting our own family, Maggie carved out a successful career as an interior designer while I began working in the real estate industry. And as both of our businesses grew, I thought back to our families' beginnings and the heritage that established our lives foundation. It was about entertaining. It was about togetherness. Both of which Maggie and I continue to now foster in our own community in Gainesville, Georgia.
Now, I will be the first to say I am no pit master. But my love of grilling is rooted deep. My friend Nick and I just knew that there was a way to enhance the full experience. A way to make your charcoal grill burn longer, hotter and cleaner in a way that would not only elevate our own grilling techniques but be appreciated by true pit masters everywhere!
So, we took the one basic principle of grilling, the heat source, and began to really re-evaluate it. Elevating the charcoal grilling experience was our core focus. Most charcoal brands on the market are designed for a quick, easy, one (maybe two) time use. But that didn't suit our needs. We wanted a product that could heat all day and last all night long, preserver through multiple rounds of cooking, and deliver the best flavor. Because the flavor of your meat all comes back to the foundation of the heat.
We made many mistakes, but we had a blast figuring it out along the way. There were lots of months of trial and error starting with the time we built a kiln (to make charcoal in) and accidentally lit it on fire several times. We got to know fireman in several surrounding counties, but that sense of community and encouragement still motivated us to keep trying.
As our research continued, we wanted to find a partner that shared our principles and understood exactly what we were striving to achieve. We discovered it in the perfect, dense wood, located in South America. Appropriately named the "Axe Breaker", the Quebracho tree wood delivered exactly what we wanted. And we've found expert craftsman, true partners that manufacture our charcoal to the specifications we need with the same goals in mind.
Which is why we are delivering our charcoal directly to you.
We want Meat Head Charcoal to be the reason that your family tradition is now grilling all day on a Sunday. We want to help inspire your holiday meals and center the menu around what comes off the grill. We want to be the reason that your friends and family sit around the fire pit for a few extra hours to bond and catch up. Moments can be fleeting; we want you to remember these times that you were together because those times are what is most important to us.
From our family to yours,