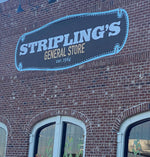 Most Saturdays around our house are spent cooking our game day favorites before watching our favorite teams play. This past Saturday was a little different….we got to spend the morning at Stripling's in Bogart, Georgia. The Meat Head team had the opportunity to cook some of Stripling's finest steaks, sausages, salmon, pork chops and beef hotdogs while also visiting several hundred of our new friends! We talked food prep, gameday favorites and had the opportunity to educate newcomers about Meat Head Charcoal.
Several of these new friends asked for a couple of specific recipes so we wanted to share those here for everyone. 
Salmon and Salmon Sauce
While preparing the salmon, we used Captain Rodney's Private Reserve Tequila Lime Pepper Glaze and marinated the salmon for 1 hour before placing on the grill that was rolling with our Meat Head Charcoal.
The sauce for the salmon after it was complete: 1 tablespoon of Captain Rodney's Peach Rub, ½ cup mayonnaise and ½ cup sour cream.  Mix together and chill for 1 hour before serving. 
Double Chocolate Chip Cookies
1/2 cup (1stick) melted butter, unsalted
1/2 cup (1stick) melted land o lakes margarine
2/3 cup granulated sugar
1 cup packed brown sugar
2 large eggs
2 tsp vanilla extract
1 tsp baking soda
1 tsp salt
3 cups all-purpose flour
2 cups semi-sweet chocolate chips
1 cup dark or milk chocolate chips (whichever you prefer)
Directions
Place both sticks of butter in your mixing bowl and melt in microwave approximately 1 minute.  Stir in granulated sugar and brown sugar until smooth.  Add the 2 large eggs and the 2 teaspoons of vanilla.
Mix the baking soda, salt and then add the flour ½ cup at a time stirring thoroughly in between each half a cup making sure to scrape the sides of the bowl.
Stir in the chocolate chips.
Using a cookie scoop, scoop cookies onto a cookie sheet lined with parchment paper.  You can put them as close together as you want because this pan will be placed into the refrigerator for an hour before cooking.
Preheat Oven to 350 degrees F.
Line another cookie sheet with parchment paper or a silicone mat.
Take the pan of chilled dough from the refrigerator and place the dough balls on the second cookie sheet spacing them approximately 2 inches apart.
Bake for 11-13 minutes or until slightly golden brown. Let cool slightly before removing from pan.
Store in airtight container for 3-4 days.
 Yields 36-48 depending on your cookie scoop size.
Chocolate Chip Cookies (Original Toll House Cookie Recipe)
2 ¼ cups all-purpose flour
1 teaspoon baking soda
1 teaspoon salt
1 cup butter, softened
¾ cup white sugar
¾ cup packed brown sugar
1 teaspoon vanilla extract
2 large eggs
2 cups semisweet chocolate chips (such as Nestlé Toll House)
1 cup chopped nuts
Directions
Preheat the oven to 375 degrees F.
Combine flour, baking soda and salt in small bowl.
Beat butter, white sugar, brown sugar and vanilla in a large mixing bowl until creamy. Add eggs, one at a time, beating well after each addition. Gradually beat in flour mixture. Stir in chocolate morsels and nuts.
Drop by rounded tablespoon onto ungreased baking sheets.
Bake in the preheated oven until golden brown, 9 to 11 minutes, switching racks halfway through.
Cool on the baking sheets for 2 minutes, then transfer to wire racks to cool completely.
Yields 60 cookies depending on your spoon size
We hope those of you that got the opportunity to come out to Stripling's in Bogart this past Saturday enjoyed the awesome meats, sauce pairings and the cookies for dessert. We loved getting to spend this past Saturday with all of you!  So please head on over to Stripling's and get those game day meats, the best charcoal and fill your kitchens with these awesome meats and sweets!