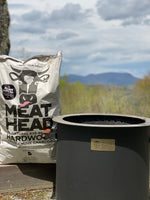 Over the past few months, we've enjoyed getting to know the guys behind Burly USA. With a similar passion to our own, Burly has spent the past several years creating an almost completely smoke-free fire pit. It's unique two-piece design allows for maximum airflow to keep the smoke down and the fire burning. As we enjoy the final few cool nights here in Georgia before summer's arrival, we have especially enjoyed putting our Burly to use.
We know what you might be thinking: why would a fire pit company partner with a charcoal company? And traditionally, we would think the same thing. Your normal inclination for igniting a fire pit would be to use your favorite dry wood and stoke it for as long as you wanted to keep the fire warm. But see, that's where the beauty of our product comes into play.
For those of you who don't yet know, Meat Head Charcoal is a premium lump charcoal. It burns hot and clean so that you can enjoy your grilling experience virtually smoke free. Along with keeping the smoke level to a minimum, the density of our charcoal creates a long lasting burn.
Combining our passion for a long lasting burn, and Burly's innovative pit design, it was a match made for the perfect partnership.
Burly also offers plenty of accessories to maximize your usage. The grilling arm is one of our favorites. Attaching to the side of the pit, the grate can be hung at just the right height to create that perfect sear on the outside of your tenderloin, sausages, or even a burger.
Once dinner is done, using our Meat Head Charcoal, there's plenty more flame to roast a smore or just bring everyone back outside to enjoy the warmth of the fire pit.