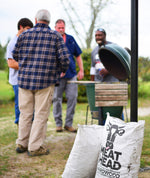 Hi All, Abbye here. Creative Director and Merch Aficionado at Meat Head Charcoal. With the long hot days of summer having finally arrived, there is one thing we look forward to most: the ultimate summertime burger. While there are all sorts of variations on how to achieve this just right, I'd say I'm pretty partial to the way the men in my life have always prepared them.
Growing up, my dad was (and still is) a master griller. As an immediate family of 6, our evenings were generally spent around the pool at our family home, jumping in and out of the water until we were absolutely exhausted. With red eyes from the sun and chlorine, we'd sit around the dinner table wrapped in towels, enjoying a famous hamburger from our master griller at least once a week.
Dad would say the principles for achieving success of the perfect hamburger are as follows: quality ground chuck (80/20 or 85/15 ratio) a ripe Georgia tomato, and a fresh Vidalia onion. We are cheese lovers of any variety, but we are particularly partial to Pepper Jack. And let's be honest, any cheese makes a burger that much better.
He seasons his meat simply but liberally with Worcestershire, garlic powder, salt, and pepper and allows his patties to come up to room temperature before putting them on the grill. Final internal temperature is of course left to the preferences of the chef. We'd recommend though with any quality ground beef not to cook past 140-145 degrees.
The last, but most important piece of the perfect hamburger puzzle is the bun. These don't have to be fancy, but they do have to be toasted. A quick swipe of butter and a toasted brown edge is exactly what you are looking for and takes your burger to the next level.
Using Meat Head Charcoal, you are guaranteed a hot and even cook all the way through your burger. Be sure to allow 15-20 minutes after your charcoal ignites before placing your burgers down so you'll get a good sear on the outside. Let them do their thing and you'll be a master griller too in no time!
Wishing you all happy grilling and an even happier July 4th weekend!