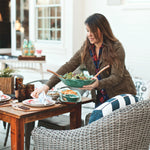 We are really loving the crisp air and the early dusk feel as we are quickly slipping from fall into winter. We welcome any excuse to stay outside and enjoy the fire. One of our new family traditions has been eating dinner outside. Gathering around a fire while sipping your favorite beverage is the perfect way to fall in love with entertaining outside during those cooler months.
With some many wonderful options available, setting up an outdoor fireplace or fire pit helps transition your outdoor space from warmer to cooler months. Wood burning fire pits usually fall within the most affordable range and offer the most versatility in being able to take them and move them around depending on where you are traveling or sitting.
We like to set ours in the middle of our patio and set chairs around it to give everyone plenty of space while still getting the warmth from the open fire. Our hardwood charcoal has proven to work well in our fire pit due to the lack of smoke that it produces so we aren't being covered in smoke while trying to relax around the fire. 
Our favorite chairs have been wooden ones because the natural material gives to the warmth unlike metal chairs which we found to be really cold and ridged to sit in during the cooler months. To add some style to your outdoor seating area you can add a few throw pillows and cushions.
With so many of us spending more time outdoors this past year we found it was worth it to add fun extras like an outdoor rug and pillows to bring the comforts from inside to our outside living area.